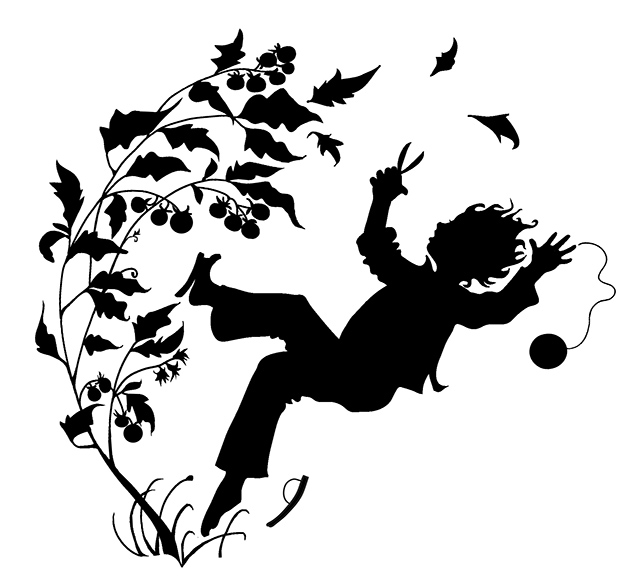 Lyn Stone loves her garden and is willing to to sacrifice herself to preserve it. Read her latest adventure below:
"It's wonderful to sit out in the sunshine surrounded by the fruits (quite literally) of my labours, sipping a nice drop of white wine or a cup of tea. The birds, the sunsets, it's a little idyll. However, I do not recommend spending any time in the garden at five in the morning in the teeth of a howling gale. What's that you say? Well, no, I wouldn't normally – it happened like this…
I was woken by my alarm clock at 5.30am, with the cheery prospect of a commute. Fair enough, you've got to earn a crust. I dragged myself unwillingly to the kitchen, not exactly bright-eyed and bushy-tailed, but… awake. Blearily rubbing my eyes, I looked out into the garden and was faced with a raging storm. It was Biblical. It was epic. It was horrible. It's the sort of weather that says, in persuasive block capitals, GO BACK TO BED. Through the mad winds and driving rain, I expected Bronte's Heathcliff to make an appearance any minute. Or at the very least, Kate Bush.
Through all this wind and weather, I had but one concern – my beloved tomato plants. I've nurtured every struggling tendril since they first emerged from the Gro-bag and now they are firmly established, looking like something from The Day of the Triffids. (But with tomatoes.) However, they were being whipped and walloped by this crazy tempest, and needed salvation. I quickly and inevitably realized that the only person who was in any position to do this was myself. Yours truly.
I wasn't dressed for gardening, and a sou'wester and gumboots would have been better gear for the weather, nevertheless, still in my pyjamas and some old flip-flops I set out with twine and scissors aloft. What a battle it turned out to be in the end! I was battered about as much as the tomato plants! (The great J. M. W. Turner purportedly tied himself to the mast of a ship to experience a storm at sea and improve his painting. I hope this experience improves mine!) It took three attempts to tie one plant to the garden wall, and then the others. Thank goodness there were no neighbours about to see me in such a state! Suddenly, there was a huge gust of wind and the next thing I knew I was lying on my side in my nightwear covered in mud and soaked through! How's that for dedication to your garden? Eat your heart out, Alan Titchmarsh! You will be pleased to hear I was damp but undamaged. The tomato plants were saved from probably being blown out to sea, and you will be pleased to hear that they, too, continue to thrive. Today I counted over forty tomatoes on one plant. And there are three plants! I hope they appreciate the care I lavish on them, even at 5.30 in the morning!"
Thanks for putting a smile on our faces Lyn!
Categories: Lyn Stone