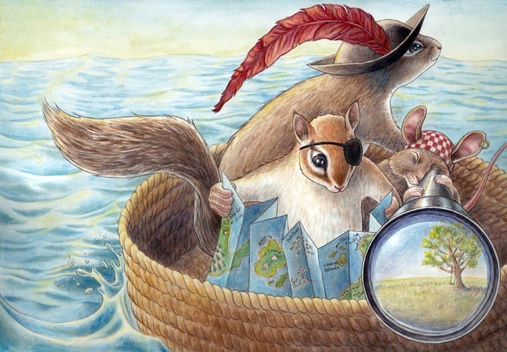 Washington based illustrator Rebecca Solow's beautiful artworks have graced the pages of many a child's books. She's just released an artists sketchbook, filled with drawings and process sketches from her new series on Russian Fairy Tales and it's for sale in her Etsy shop here: https://www.etsy.com/listing/184053551/firebird-sketchbook-by-rebecca-solow?ref=shop_home_feat_4
We thought this would be a good time to catch up with her for a quick chat……..
1. How long have you been a professional illustrator and when did you first realise that that was you wanted to be?
I have been a professional illustrator for going on eight years, since I graduated from art school in 2006. I've known that I wanted to be an illustrator for a very long time – when I was around six years old, I apparently told my mom that I wanted to be an artist and children's book writer when I grew up. That has pretty much held true ever since.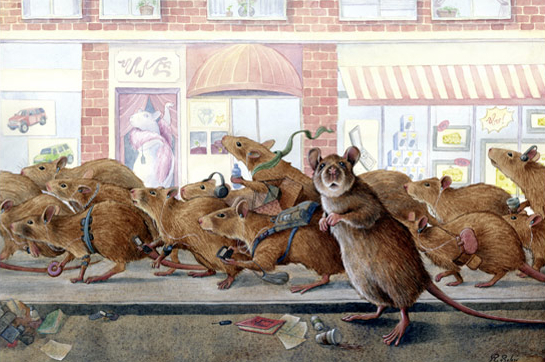 2. Are you self-taught or did you go to college/university to study?
I went to the Hartford Art School for my BFA in Illustration. It was a great program, but when I graduated I was still struggling to find my voice as an artist. So over the years I continued my education by going to workshops and taking classes when I could, and meeting a lot of other working illustrators and learning from them. I went to the Illustration Master Class in Amherst, MA, took continuing education classes at the School of Visual Arts in NYC, and eventually went back to Hartford for my MFA in Illustration (I just graduated this past summer!). I really believe that my education as an artist is never over – I am always excited to learn something new and to evolve and grow.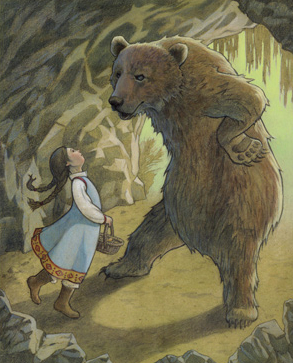 3. What was your first commission and for whom?My very first commission was for Highlights Magazine for Children. I was fresh out of college and the art director took a chance on me, and gave me a little poem to do an illustration for. I was so excited and SO nervous!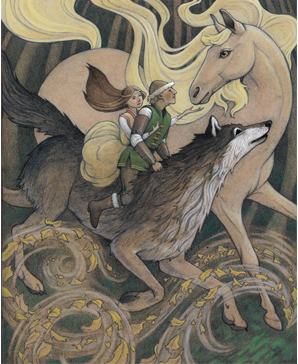 4. Do you work traditionally, on the computer or a combination of both?
I work mostly traditionally, using pencil and acrylics and sometimes watercolor. I have begun incorporating more digital techniques as well, since it is increasingly desirable to be able to make quick changes and adjustments, which can often be easier to do on the computer.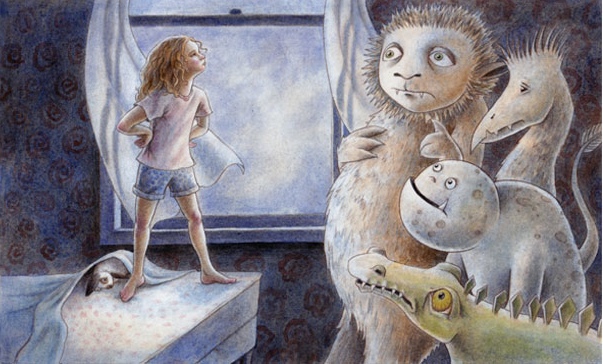 5. Do you prefer to work on your own or in the company of others?
Ah, the plight of the lonesome illustrator! I work alone in my home studio, but I LOVE to work in the company of others. Eventually I would like to move to a shared studio space with a couple of other artists.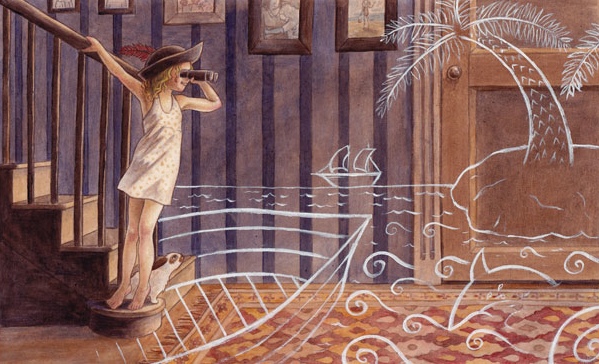 6. You obviously love what you do. How long does it take to produce one of your busy scenes form concept sketch to final artwork?
It can take anywhere from a day or two to a whole week to complete an illustration, depending on the size and complexity of the project.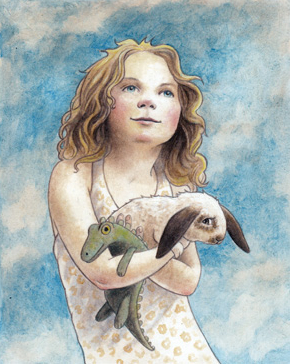 7. If you hadn't been an illustrator, what other career might you have chosen?
I love animals, and I think if I had been better in science classes in high school it's possible I could have ended up as a veterinarian or working at a zoo. But it turns out I am much better at drawing animals than at studying them scientifically. I am fine with that!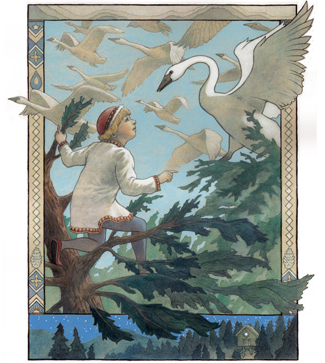 8. What would be the 'perfect' commission for you?
I would love to do a Harry Potter-esque young adult or middle grade novel cover and black and white chapter illustrations. Also any sort of fairy tale or folk tale picture book, especially if it involves animals!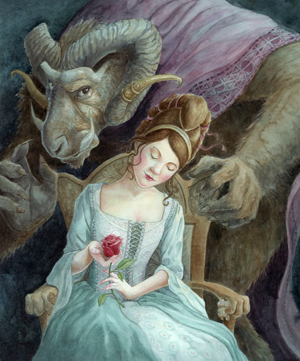 9. Do you prefer clients to give you a detailed brief or a 'blank' sheet?
I like a detailed brief if the client has a good idea of what they want – I find it very helpful to have some guidelines from the client, and less guesswork. A 'blank' sheet is great, as long as it is truly a blank sheet – there is nothing worse than working up concepts for a day or two, and then having the client say "Actually, that's not really what we want".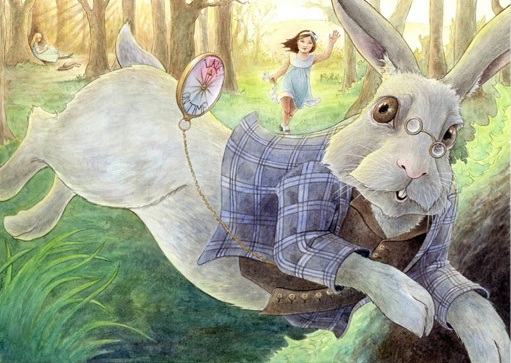 10. What are your interests outside illustration?
I love to travel (and wish got to do it more often!) – I have a long list of countries I want to visit, and so far have checked off Italy, Spain, France, Egypt, Belgium, Iceland, Ireland, Colombia, and Jamaica, and I've traveled all over the USA. I think it's really important to get out and experience other cultures and ways of life.
I love food (chocolate!!) and cooking, hanging out with my very cuddly pet rabbit, going to the zoo (it's down the street from my house), reading (a lot of young adult books and the New Yorker), and making jewelry. I am also a big fan of board games, and love a good game night with friends (Settlers of Catan!!).
I am interested in food issues (sustainability, the local food movement, etc) and have spent time learning how to garden, and helped raise backyard chickens when I lived in NYC.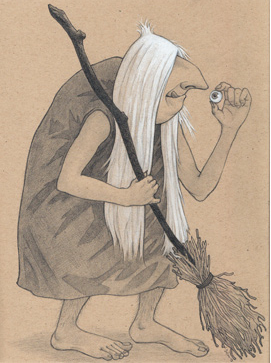 11. Are there any other illustrators you admire and why?
Oh, there are so many! Of course there are the many great illustrators of old, who I could go on and on about (Arthur Rackham, Ivan Bilibin, Edmund Dulac, Howard Pyle, NC Wyeth, Maxfield Parrish), but there also some contemporary illustrators that I find really inspiring. Rebecca Guay, who has done everything from Magic cards to children's books, is one of the stand-out women in fantasy illustration today. She is also the founder of the Illustration Master Class and SmART School, helping to foster an educational community within the field of illustration, and she just finished a very successful kickstarter campaign where she raised over $100,000 to produce her first art book. I admire her both for her beautiful work, and her entrepreneurship and involvement in the illustration community. Another contemporary illustrator I admire is Cory Godbey – I have watched his work over the years, and it just keeps getting better. I love his lyrical stylization and simplification. And of course there are my illustrator friends Scott Murphy, Elisabeth Alba, Owen Weber, and others who I have gotten to know and admire because I have seen firsthand how hard they have worked to develop their styles and careers (and their work is great).
12. The Desert Island Discs question! You're stuck on a desert island. There's a plentiful supply of food and water, but what other three items couldn't you live without? (no husbands, boyfriends or pets included I'm afraid)
Oh boy, haha, three items I could not live without, let's see – my sketchbook (of course), my laptop, and the entire Harry Potter series (which hopefully can count as one item).
Rebecca will be exhibiting at AwesomeCon in Washington, DC in April – her first art table at a convention. She'll be selling her art book, as well as prints and a few original paintings and drawings. Get along if you're in the neighbourhood. You won't be disappointed.
Categories: Rebecca Solow